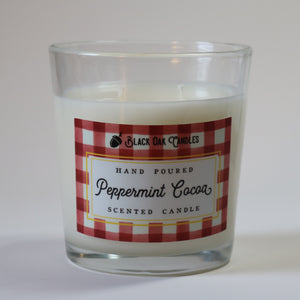 About This Fragrance
When it gets cold, we love nothing more than a quiet evening sitting by the warm fire sipping on dark chocolate and mint cocoa. Enjoy this irresistible aroma in our latest holiday scented candle.
Fragrance Notes:
Top: Peppermint
Middle: Milk, Vanilla Bean
Base: Chocolate
Made with essential oils including peppermint.
About Our Holiday Scents
Our Holiday Scent candles remind us of cold nights, warm fires, and quality time spent with friends and family. They are held in simple but elegant glass tumblers.
Each candle is hand poured in Fayetteville, Arkansas, from soy wax. Our Holiday Scent candles come in an 8oz. tumbler (40-60 hours burn time) and two zinc and lead free cotton wicks.