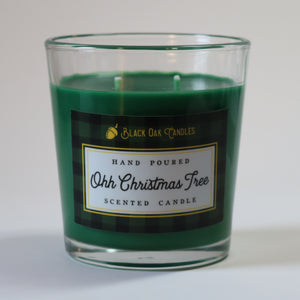 About This Fragrance
Remember going out and cutting your own Christmas Tree? Well, we have put that glorious smell into this candle. It is the perfect aroma for setting the festive holiday mood while singing carols around the decorated tree.
Fragrance Notes:
Top: Cypress, Cedarwood
Middle: Moss, Amber, Pine
Base: Spruce, Balsam Fir
Made with essential oils including cedarwood, pine, spruce, and balsam fir.
About Our Holiday Scents
Our Holiday Scent candles remind us of cold nights, warm fires, and quality time spent with friends and family. They are held in simple but elegant glass tumblers.
Each candle is hand poured in Fayetteville, Arkansas, from soy wax. Our Holiday Scent candles come in an 8oz. tumbler (40-60 hours burn time) and two zinc and lead free cotton wicks.