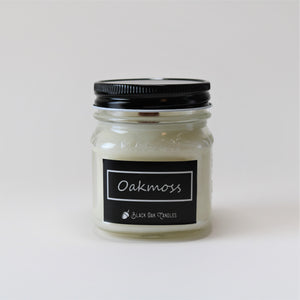 About This Fragrance
A fresh captivating scent with infusions of herbal notes followed by a light floral touch. All of this is rounded out with an earthy and rich base of tonka, amber, and most importantly -- oakmoss.
Fragrance Notes:
Top: Sage, Orange
Middle: Rose, Lavender
Base: Tonka, Amber, Oakmoss
About Our Black Label Candles
Our Black Label candles set themselves apart with a crackling wood wick and rustic glassware.
Each candle is hand poured in Fayetteville, Arkansas, from soy wax, and has a single wood wick. Our Black Label candles come in two sizes. A 2oz. scent shot (15-20 hours burn time), and 8oz. mason jar (60-80 hours burn time).