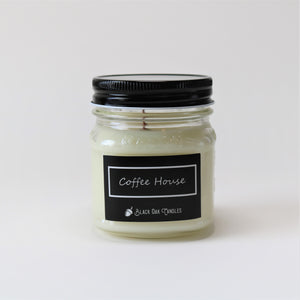 About This Fragrance
A rich roasted coffee scent with a hint of hazelnut, chocolate, and vanilla. One whiff and you will be instantly transported to your favorite coffee shop.

Perfect for non-coffee drinkers who still love the smell of coffee.
Fragrance Notes:
Top: Coffee
Middle: Hazelnut, Sugar
Base: Vanilla, Chocolate, Cream
About Our Black Label Candles
Our Black Label candles set themselves apart with a crackling wood wick and rustic glassware.
Each candle is hand poured in Fayetteville, Arkansas, from soy wax, and has a single wood wick. Our Black Label candles come in two sizes. A 2oz. scent shot (15-20 hours burn time), and 8oz. mason jar (60-80 hours burn time).